TOPPAMONO: Outlaw. Radical. Suspect. My Life in Japan's Underworld
Top | Contents | Book Reviews | Author Interview | Press Conference | Purchase Information



By Miyazaki Manabu, Robert Whiting (Foreword)

ISBN: 0970171625 (or 4903295036 only in Japan)
Price: US$26.95, JPY2,800 (JPY2,940)
Pages: 480


FREE Full Chapter 1, Part I "My Family" (PDF)
FREE Full Chapter 2, Part II "Wriggling in Money Hell" (PDF)
FREE Full Chapter 6, Part II "The Taste of a Bullet" (PDF)

Shot, stabbed, and beaten, Miyazaki Manabu somehow emerged intact from his first fifty years to put his astonishing life story down on paper. Born the son of a yakuza boss in 1945, he grew up in a household of gang members and social misfits before his conversion to Marxism launched him into the violent world of 1960s student radicalism.

After dropping out of university and spending a brief sojourn in South America, he became a reporter on a fast-rising weekly magazine. Called back home to Kyoto to take over the family demolition business, he was plunged into a maelstrom of bankruptcy and debt, forcing him to raise funds however he could.

Along the way, he became the chief suspect in one of Japan's most sensational criminal cases----still unsolved----before getting caught up in the crazy years of Japan's bubble economy, when land speculators tipped their favorite bar hostesses millions of yen and Dom Perignon flowed like water.

More than just one man's incredible story, unflinchingly told, Toppamono is a sophisticated analysis of Japan's postwar half-century that will astound and enlighten. Devastatingly critical of banks and bureaucrats, questioning of Japan's understanding of democracy, and cogent on the role played by the yakuza in Japanese society, this underground best-seller, first published in 1996, will keep you enthralled until the very last page.
Miyazaki's conversation bristles with humour and social analysis, his eyes rarely without a mischievous twinkle. Born in Kyoto in 1945, his story mirrors that of postwar Japan much as the protagonist of Salman Rushdie's Midnight's Children reflects the history of independent India. - FINANCIAL TIMES, August 8, 2008
...the book effectively captures the inner workings, as well as the cultural peculiarities, of the postwar Japanese underworld, student radical factionalism, and the less savory though dialectically crucial underbelly of its economic prosperity - Manuel Yang, Journal for the Study of Radicalism, Spring 2008
Miyazaki emerges by turns as feisty, unapologetic, open, curious, an individualist and outspoken, which surely help to explain why this well-translated autobiography has sold over 600,000 copies in the vernacular. - The Japan Times, January 22, 2006.
A sordid story that is told uncommonly well, turning over rocks of the Japanese Establishment to reveal what comes crawling out. - Wall Street Journal Asia
...Miyazaki is not afraid to express his thoughts about Japanese society - in fact he clearly enjoys getting in people's faces. - Metropolis
The story of one of Japan's most interesting characters of the last half century. - KANSAI TIME OUT
A sprawling, epic saga of Japan's first half-century after the war that will captivate even the most casual reader, yet, at the same time, stands as must reading for any serious student of Japanese culture. - Robert Whiting, author of Tokyo Underworld
Miyazaki Manabu has spent a lifetime in conflict with authority. A social commentator of penetrating insights, he now lives in Tokyo.
toppamono n: a person with a devil-may-care attitude, who pushes ahead regardless
---
CONTENTS

Foreword
Author's Message
Publisher's Note
Maps

PART I 1945-1975
1 My Family (PDF) FREE
2 Boy Commando
3 Street Fights and Das Kapital
4 Waseda University and the Internationale
5 Secret Combat Unit
6 Stray-Cat Reporters

PART II 1975-1996
1 Breaking the Rules
2 Wriggling in Money Hell FREE
3 Putting the Squeeze on General Contractors
4 Coldness and Compassion
5 The Fox-Eyed Man
6 The Taste of a Bullet FREE
7 Rascals and the Bubble
8 We're Not Going Anywhere
Epilogue

APPENDICES
Selected Characters
Selected Vocabulary
Index (PDF 302KB)

---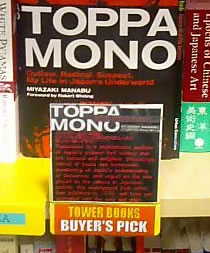 Purchase Information
Last update: January 6, 2008

BOOKSTORES
USA & CANADA
Borders - You can locate a Borders in your area and order a copy online for in-store pickup.

Powell's Books - the largest new & used bookstore in the world

TextbookX - new and used college textbooks at significant discounts

VarsityBooks.com

Walmart.com

UK & EUROPE

Amazon.co.uk

Blackwell's

JAPAN


ONLINE BOOKSTORES
| | |
| --- | --- |
| Amazon.com | |
| Amazon.ca | |
| Amazon.co.uk | |
| Amazon.de | |
| Amazon.fr | |
| Amazon.co.jp | |
---
Sales & Distribution
USA & Canada (January 2008)

Distributor
Tuttle Publishing
Airport Industrial Park
364 Innovation Drive
North Clarendon, VT 05759-9436
Tel:1-800-526-2778, 1-800-692-3786
Fax:1-800-FAX-TUTL (1-800-329-8885)
E-mail: info@tuttlepublishing.com

Major Wholesalers
Ingram Book Company
One Ingram Blvd. P.O. Box 3006,
La Vergne, TN 37086-1986, USA
Tel:1-800-937-8000
http://www.ingrambookgroup.com

Baker & Taylor
2709 Water Ridge Parkway,
Charlotte, NC 28217, USA
Tel: 1-800-775-1800, 1-704-357-3500
http://www.btol.com


International Markets (January 2008)

Ingram Book Company (USA) (contact details above)
Baker and Taylor (USA) (contact details above)